Ideal Units
[
]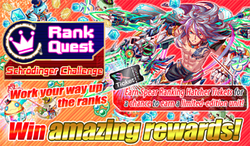 Unit
Reason

Schrödinger Challenge Supreme
Vaccine

Vaccine
Skill: Convert Green to Red, Boost Red/Blue rate

Vaccine
Skill: Enhances existing Crash Panels

Vaccine
Skill: Isolates panel types for high damage potential

Vaccine (BUG 30)
Skill: Converts up to 2 panels to SCP (L)
Other Recommended Units
[
]
Note: The lack of Vaccine on these units will result in a reduction in score. Use with caution.
Units Obtained From Hatchers
Overview
[
]
Aim for as much Damage Dealt as possible

[

]
In general for all Rank Quests, the Damage Dealt score is a major factor in achieving a high ranking. Use Fever and Skills as much as you can to try to aim for a high score.

Note: The Damage Dealt score limit in Schrödinger Challenge in particular leans a bit towards the low side.
Aim for as low a Clear Turns as possible

[

]
In general for all Rank Quests, you want to clear them as fast as possible in order to achieve a high ranking. Clear each floor as fast as possible to aim for a high score.
Vaccine

[

]
In this quest, the Damage Taken score will heavily weigh down your total score. In particular, enemies in this quest will inflict a Permanent Virus to the party, and without any way to cure Virus, the Damage Taken score will only accumulate the longer you take to clear the quest. It is highly recommended that your party comprises of units with Vaccine, otherwise you must clear the quest as fast as possible.
Mechs not recommended

[

]
In this quest, enemies will have preemptive skills that target Mech units specifically, inflicting Skill Bind and tap reduction. It is recommended for the party to stray away from bringing any Mech units.
Use Crash Panel Drop skills before Gauge 3

[

]
The Area Boss will cause Crash Panels to drop as protected on its last Gauge of HP, so if the party consists of Crash Panel Drop skills, it is recommended that they use it before the final gauge.
Strategy
[
]
Because Rank Quests are competitions against other players, we will not include specific strategies on how to handle each Battle Field. Try your best to get the highest rank you can!