Ideal Units
Edit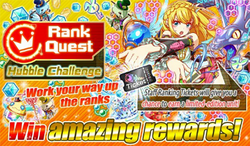 Unit
Reason

Hubble Challenge Ultimate Power
Skill: Converts Hearts to Crash Panels

Hubble Challenge Damage Boost
Junk Break

Hubble Challenge Damage Boost
Skill: Able to output burst damage

Hubble Challenge Damage Boost
Skill: Able to clear field with ease

Hubble Challenge Damage Boost
Skill: Able to output burst damage

Hubble Challenge Damage Boost

Hubble Challenge Damage Boost
Has High ATK for a 5★ unit
Other Recommended Units
Edit
Units Obtained From Hatchers
Aim for as much Damage Dealt as possibleEdit
In general for all Rank Quests, the Damage Dealt score is a major factor in achieving a high ranking. Use Fever and Skills as much as you can to try to aim for a high score.
Aim for as few Clear Turns as possibleEdit
In general for all Rank Quests, you want to clear them as fast as possible in order to achieve a high ranking. Clear each floor as fast as possible to aim for a high score.
Aim for as few Damage Taken as possibleEdit
On Battle Field 3/5 up to 5/5, any damage taken will cause the Damage Taken score to skyrocket. Since there is a set pattern to the enemies to some extent, endure through the Battle Fields by using skills at the right timing to keep the Damage Taken score as low as possible!
Make use of the Heart Panels that spawnEdit
In this quest, enemies will spawn Heart Panels across the board. One can turn Heart Panels into a damage source with units such as Lemaitre, and with the correct timing, breeze through the Rank Quest with ease.
The Area Boss drops Green Panels as other panelsEdit
The Area Boss will drop Green Panels as Junk Panels and Heart Panels. Use units that manipulate Heart Panels as damage source and Junk Break to aim for a high score.
Because Rank Quests are competitions against other players, we will not include specific strategies on how to handle each Battle Field. Try your best to get the highest rank you can!