Ideal Units
[
]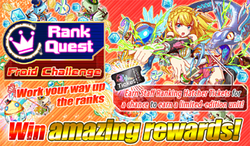 Unit
Reason

Froid Challenge Ultimate Boost
Skill: Converts Damage Panels to Bombs + Disable counters
Damage Panel Breaker

Froid Challenge Damage Boost
Damage Panel Breaker
Skill: Boosts ATK (Massive)
C Skill: Massive effect against Red enemies

Froid Challenge Boost
Skill: High boost to Blue spawn rate + Boosts ATK (Ultra)

Froid Challenge Boost
Skill: Boosts ATK (Massive) + Easier CP Spawn (Massive)

C Skill: Boosts ATK
Skill: Adds extra taps
Other Recommended Units
[
]
Units Obtained From Hatchers
Overview
[
]
Aim for as much Damage Dealt as possible

[

]
In general for all Rank Quests, the Damage Dealt score is a major factor in achieving a high ranking. Use Fever and Skills as much as you can to try to aim for a high score.
Aim for as few Clear Turns as possible

[

]
In general for all Rank Quests, you want to clear them as fast as possible in order to achieve a high ranking. Clear each floor as fast as possible to aim for a high score.
Enemies will use different but set abilities preemptively at set times

[

]
In this quest, enemies will often times preemptively activate different effects at set points during Battle Fields 3/5, 4/5, and 5/5. These include dropping Damage Panels and Crash Panels, absorbing Crash Panels to increase DEF, Counter, as well as decreasing the party's ATK. Be sure to have countermeasures for each of the above ready in order to achieve a high score.
Avoid bringing Balance Type units!

[

]
In Battle Fields 3/5 and 5/5, the enemies will inflict Skill Bind to all Balance Type units. Avoid bringing Balance Types to this quest.
Strategy
[
]
Because Rank Quests are competitions against other players, we will not include specific strategies on how to handle each Battle Field. Try your best to get the highest rank you can!