Ideal Units
[
]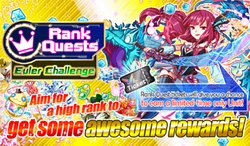 Unit
Reason

Euler Challenge Damage Up
Skill: Converts Timers to SCP

Skill: Converts up to 15 panels to CP

C Skill: Ultra effect on Humans

Two-Tribe CP Spawn Boost

Easier CP Spawn when there is Human enemy

Skill: Boosts Red Panel spawn rate + Easier CP Spawn (High)
Euler Challenge Damage Up

C Skill: Ultra effect against Humans
Skill: Easier CP Spawn (Super)
Euler Challenge Damage Up

Skill: Converts Timers to Bombs
C Skill: High effect against Humans
Euler Challenge Damage Up

Usumgallu

Euler Challange Damage Up
Decent stats for a 30 cost unit
Other Recommended Units
[
]
Units Obtained From Hatchers
Overview
[
]
Aim for as much Damage Dealt as possible

[

]
In general for all Rank Quests, the Damage Dealt score is a major factor in achieving a high ranking. Use Fever and Skills as much as you can to try to aim for a high score.
Aim for as few Clear Turns as possible

[

]
In general for all Rank Quests, you want to clear them as fast as possible in order to achieve a high ranking. Clear each floor as fast as possible to aim for a high score.
Do not bring units other than Red Units!

[

]
In this quest, enemies will inflict Skill Bind on any units other Red units. For this reason, it is recommended that the party consists entirely of Red units.
Save Heighway's skill to turn Timer Panels into a Damage Score boost!

[

]
Secure Damage Sources when no Timer Panels are available

[

]
When enemies are not spawning Timer Panels, the party must be able to deal reliable damage in order to secure a high Damage Score. Units such as Iori Yagami or Nobunaga Oda that deals burst damage and adds extra taps allow the party to deal great damage without needing Heighway's skill.
Strategy
[
]
Because Rank Quests are competitions against other players, we will not include specific strategies on how to handle each Battle Field. Try your best to get the highest rank you can!